Fried Cheese (Vyprážaný syr)
Ingredients: cheese, egg, flour, bread crumbs, potato, oil, salt, tomato, cucumber, canned pears
Prep time: 20 minutes
If you are looking for something heart-healthy, move on and skip this recipe. Otherwise, let's fry some cheese! Fried cheese is quite popular. You will likely find this dish offered in most restaurants. Street food vendors also often sell fried cheese sandwiches. These are especially popular in Prague, on the Wenceslas Square (Václavské náměstí). They are kind of like a hamburger, but instead of a beef patty, you get a slice of fried cheese. Just a note of warning. You will be dealing with hot oil and sticky cheese. This could be a bad combination, so be careful when flipping the cheese so you don't get hurt.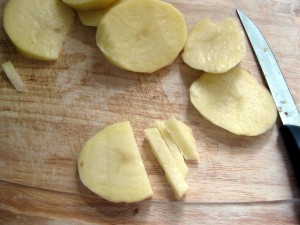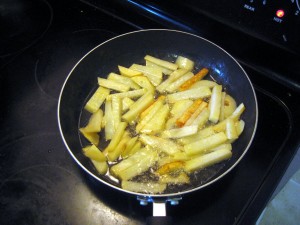 Potatoes take longer, so start by making french fries (hranolky). Peel potatoes, cut them into slices, and fry in salted oil.
Next, heat oil in another frying pan, and then prepare the cheese. My local supermarket had a mysterious shortage of block cheese today, and so I used pre-sliced Provolone. But normally you would want to take the cheese (Provolone and Muenster work well), and cut it into half-inch thick slices. Sidenote: as commented below, Edam is the cheese used in Slovakia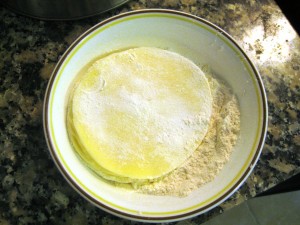 Arrange three bowls in a row. Put flour in the first, well-mixed egg in the second, and plain bread crumbs in the third.  Coat the cheese slice in flour, …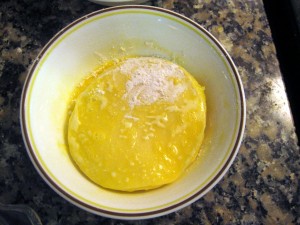 … in egg, …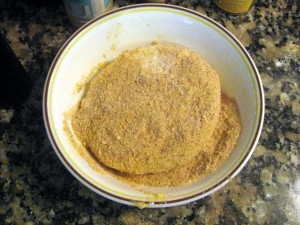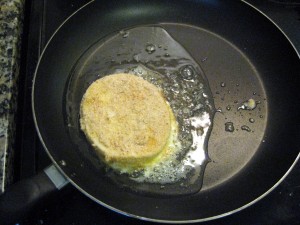 … and in bread crumbs. Fry, carefully flipping once the cheese starts melting (about two minutes). I use two spatulas to flip the cheese. Fry the second half for a shorter time, not even a minute.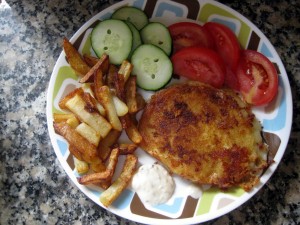 Garnish with tomato and cucumber. Serve with tartar sauce. Sliced canned pears go well with this dish. Enjoy!
Subscribe to the newsletter.