Cottage Cheese Buns (Tvarohové Buchty)
Ingredients: 400g flour, 1 egg, 3 yolks, 50g powdered sugar, 1 stick of butter, ground lemon peel, 2dl milk, salt, extra butter for greasing
Prep time: 30 minutes to make dough, several hours to let dough rise, at least half an hour to make the buns, 1 hour for baking
I am not sure how to translate the word buchty. Buns comes probably the closest, although when I think of buns, I tend to think of hamburger buns. But I definitely know how to describe them: delicious! In Slovakia, we don't bake cookies. Instead, we bake buchty. So when you visit your grandma, she will always treat you with a sheet of freshly baked buchty. They are filled with a variety of fillings, but cottage cheese (tvaroh) is the most uniquely Slovak.
Making the dough
Start by prepping yeast by combing little bit of warm milk (fridge milk microwaved for about 10 seconds) with one teaspoon of sugar and one packet of rapid rise yeast. You can see pictures of this step in the recipe for steamed dumpling (knedľa). Next find a big pot, and mix in all the ingredients to make the dough.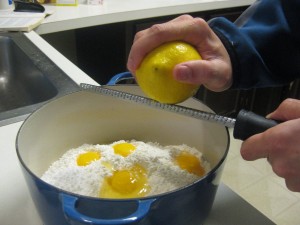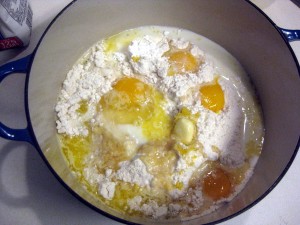 Combine flour, powdered sugar, one egg and 3 yolks. Also add little bit of grated lemon peel (lemon zest). The original recipe called for peel from half a lemon. I thought this would make the buns too lemony so I added not even a quarter. I don't think my grandmother ads any lemon at all. Also melt one stick of butter (microwave works fine) and add it along with a dash of salt and some milk. I prefer to start with less milk and add more as needed.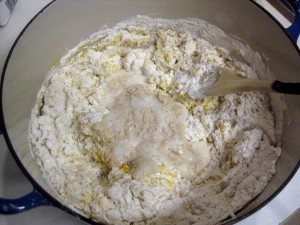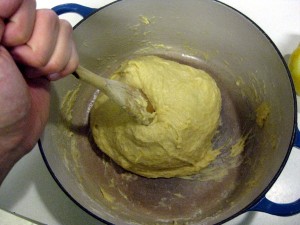 Next add the yeast (it should be bubbled up) and work the dough for some 15 minutes until you get a nice smooth texture. Keep adding more milk as needed. The final dough should be only slightly sticky. You should be able to roll it into a ball without having it stick to the pot.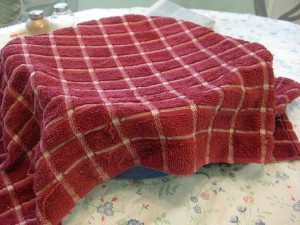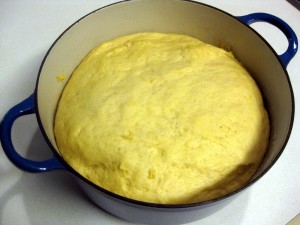 Cover, and let sit in a warm place for several hours. The dough should rise nicely.
Prepare the filling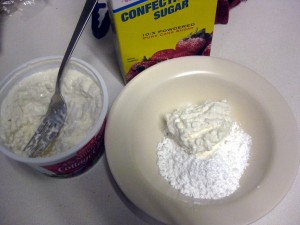 Preparing the filling is easy! Simply combine approximately equal parts of powdered sugar and fine-curd cottage cheese. Mix well.
Filling the buns (buchty)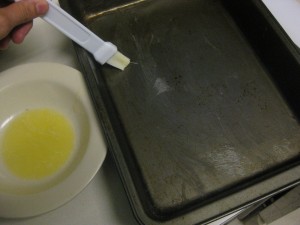 You will need a deep (casserole-type) baking pan. Grease it generously with melted butter using a pastry brush.
Now here comes the tricky part: making buchty. The recipe book said to cut out a square and form it into a bun shape. I wasn't quite clear how to go about this so I called my grandma for more instructions. She told me to cut out squares or rectangles about the size of my palm and then pinch them together. With this info, I went ahead and improvised. I took me few practice rounds, but I think I finally got the method down.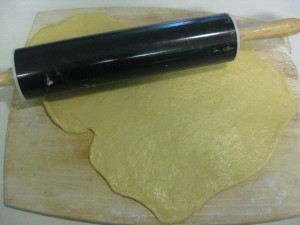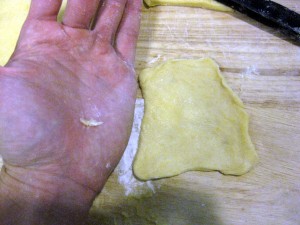 Dust a wooden board and a pin roller with flour. Roll out a portion of the dough until it is about half a centimeter thick. Cut a piece about the size of your palm.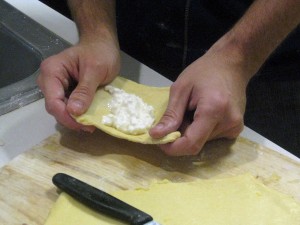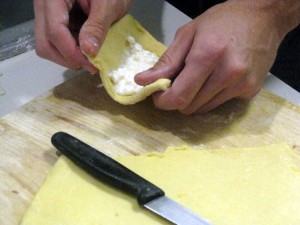 Next use your hands to stretch out the dough. It should be fairly elastic. Add about two teaspoons worth of filling. This next part is tricky. You want to fold the piece over to make a long rectangle. However, make sure the filling doesn't get to the joint area, otherwise the dough will not stick together. It helps if you keep stretching the dough out as you fold it over.
UPDATE 2/15/10: There is a much easier way to fill buchty, by rolling them. Please see the updated recipe for buchty.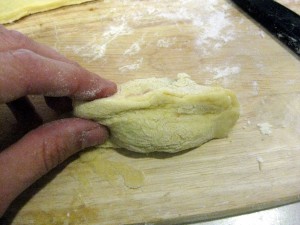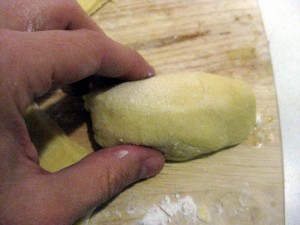 Next pinch the top seal together and also pinch the two ends closed. Then gently form the bun into a brick shape.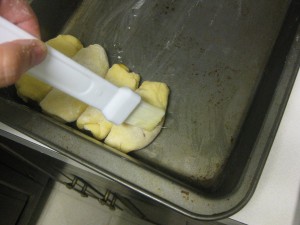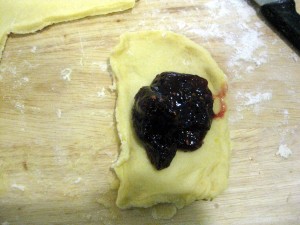 Closely stack the buns on the baking sheet, joint area on the bottom. Generously grease the contact areas with butter. Besides cottage cheese, you can also use fruit filling. I made three kinds of buchty: cottage cheese, apricot jam, and raspberry preserve. Plum jam is also very popular in Slovakia.
Baking
My grandma said she bakes buchty on "2" for 20 minutes and then on "3" until they turn pink. I had no idea what temperatures these corresponded to, so I baked them at 275F and 325F.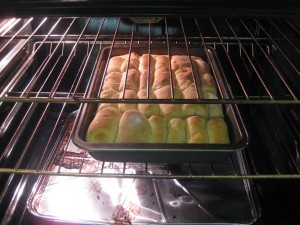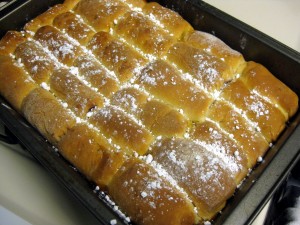 Heat up the oven only once you are done making the buns. This will let the dough rest for few minutes. I started by baking at 275F for 20 minutes. I then increased the temperature to 325F until the tops started turning light brown. I then lowered the temperature down to 275F until they were nicely brown on top. All together, baking took about an hour. Sprinkle buchty with powdered sugar once they cool off a bit. Separate them carefully with your hands.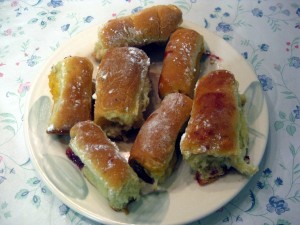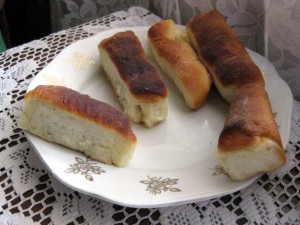 And there you have it. I didn't grease the buns sufficiently, and some of them stuck together. This resulted in some of the jam leaking out as I tried to pull them apart. In the end, my buchty tasted great, although they were bit more messy to eat than my grandma's. Still I was very happy with the outcome since this was my first serious baking attempt. You can see in the picture on the right how buchty should look when they are made right. That picture was taken at my grandma's house during my last visit. And if you are looking for another sweet Slovak delicacy, check out the recipe for plum dumplings (slivkové knedle).
Subscribe to the newsletter.