Meringue Cookies (Laskonky)
I hope you like sweets! Because these guys sure are sweet. But so delicious!
Staple of any Slovak pastry shop (cukráreň) are meringue "sandwiches" called laskonky. These have always been one of my favorites so I decided to try to recreate them. Just as a fun note, I made these for our somewhat non-traditional Thanksgiving dinner. Instead of turkey, we had the chicken on salt. And instead of a pie, we had laskonky. There is a number of different recipes, here I followed the one from varecha.sk.
Ingredients for the wafers: 5 egg whites, 300g (2 1/4 cups) powdered sugar, 75g (2/3 cups) ground nuts, 1 tablespoon flour
Cream: 75g (0.4 cups) granulated sugar, 2dL (0.8 cups) water, 3 tablespoons flour, 1/2 stick of Crisco or butter, 100g (0.4 cups) powdered sugar
Prep Time: about an hour plus 2 hours in the oven at 220F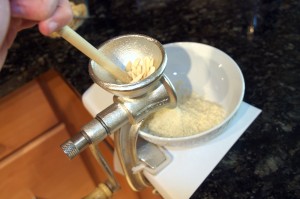 First, let's grind some nuts. Traditionally, walnuts should be used but I used almonds instead.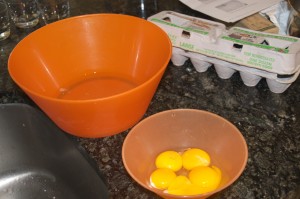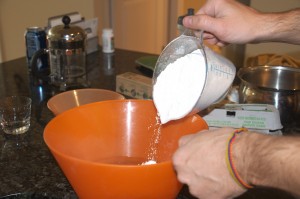 Next separate the egg whites and add powdered sugar.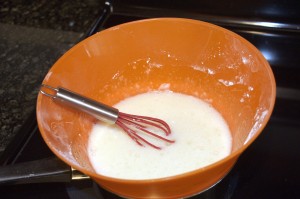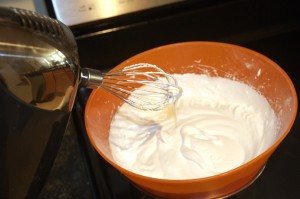 Bring a pot of small amount of water to boil and place your bowl over the pot. Whisk the egg whites and sugar over the steam until you get a thick cream.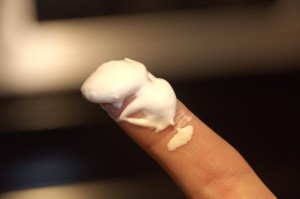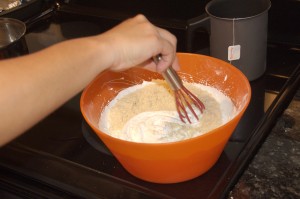 Finger lickin' good! Add the nuts and flour and gently blend in.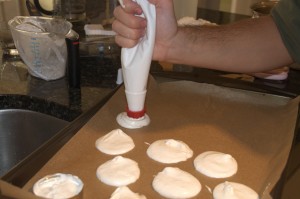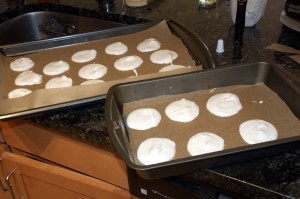 Next, preheat the oven to 220F. That's right, you want the oven to be quite "cold" since we will be drying the egg whites into meringue. Line several baking pans with parchment paper (important!) and then use an icing bag to to make discs about 1/4 inch thick. This part is super messy! Place in the oven and let dry for about 2 hours.
In the meantime, let's make the cream. Just one note, there are multiple recipes for the cream, and honestly I wasn't all that thrilled with this one. Some of the other ones called for nuts in the cream as well. Although I added little bit of nuts (the recipe didn't call for any), next time I would use more. I also added two yolks, some of the other recipes called for all yolks to be used. So feel free to experiment. Some people even add rum into the cream.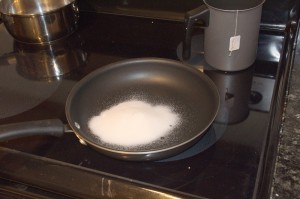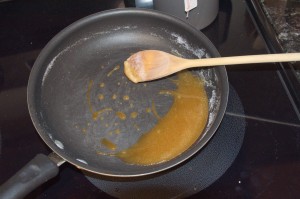 Start by melting the granulated sugar into caramel.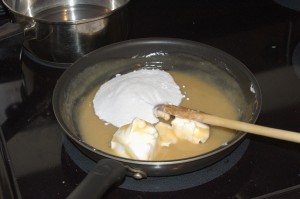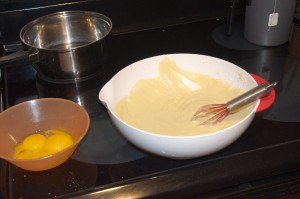 Stir the flour into water and add to the caramel. Let dissolve and then let cool down. Once cold, add the shortening or butter and the powdered sugar. I also added two yolks and about a tablespoon of ground nuts despite the original recipe not calling for this. Slowly blend and don't let get hot otherwise the butter will turn into liquid.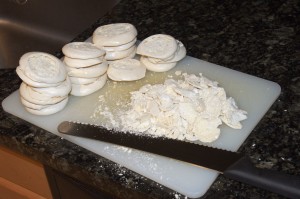 After about 2 hours, the meringue wafers should be ready to go. They will likely puff up a bit on top, so use a knife to cut off the puffs to get a flat top. Then make the "sandwiches".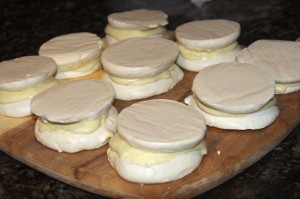 And that's it. This recipe is actually fairly easy although quite messy. I found that you can store these pastries in the freezer, the filling doesn't freeze and this will keep the filling fresh, plus they taste much better cold. Enjoy!
Subscribe to the newsletter.