Backpacking and tasting our way through Slovakia: Plan for summer 2011
Hi there.
This upcoming summer, I plan to set off on a two to three week backpacking adventure in Slovakia. I'll be joined on this trip by my friend Alex, and also possibly by Allan Stevo from 52 Weeks in Slovakia.
So what's the idea? Our plan is to travel through a big portion of the country on foot and, along the way, stop in various villages where we can sample local specialties (and homemade pálenka, of course!)
We will be traveling mainly on the Route of the Heroes of the Slovak National Uprising, Trasa hrdinov SNP, often called magistrála. This 740km route is the Slovak version of the Appalachian trail. It travels from Bratislava in the southwestern corner of the country through the Carpethian mountains (the Tatras) all the way to Dukla Pass (Dukliansky priesmyk) at the north eastern border with Poland. This mountain pass was scene of an important battle of World War 2 and currently houses a military memorial / museum.
My original plan was to through-hike Slovakia on this route. However, this would take about a month and neither I nor Alex can take off so much time away from work. I'll actually be in Europe for over a month, but part of this will be spent attending a conference in Germany, plus my girlfriend will come for a visit, and there will be the obligatory family visits, etc…
Hence, we decided to shorten the route, and will be traveling mainly between my hometown of Banská Bystrica and as far east as we can get before the time runs out.
Below is our route, so far. Can you suggest other neat places to see or nice people to visit? I would love to stop by your grandma's house and try her homemade koláče! 🙂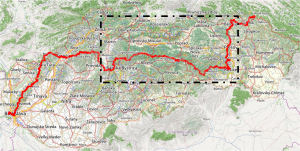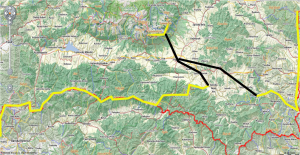 Route SNP is shown in the left image in red (click on it to get the full size version). Both of these images came from cestasnp.freemap.sk. We are planning to hike the section boxed off by the black rectangle. The map on the right shows a close up of this. The yellow section is the section we plan to hike, the black one is public transport (bus or train).
The plan so far (this will change and solidify as the time goes on) is:
Start hiking in Králiky near Banská Bystrica
Hike through Donovaly to the Low Tatras
Pass through Chopok and Ďumbier, the highest point in the Low Tatras
Continue on the Route SNP through Kráľová Hoľa
Get off the trail at Dobšinská Ice Cave, visit the cave
Hike through Slovak Paradise
Get to Spišská Nová Ves, take a bus to Poprad. Get a hotel (SHOWER!!).
Take a bus to the High Tatras, go for some sort of a day hike
Take a bus to Krompachy, get back on trail
Hike east until we rejoin with the magistrála
Keep hiking north until we run out of time. We would like to get to Bardejov
Take a rafting trip on Dunajec to celebrate the end
So that's our idea so far. What do you think? Please leave a comment and let us know. Thanks!
Tweet
On Twitter or Facebook? Connect with us. Prefer email? Subscribe to the newsletter.