World Cup: Slovak game food
On Tuesday, June 15th, Slovakia will make an appearance in its first-ever World Cup game as an independent country. The 7:30 ET match will pit Slovakia against New Zealand. Do toho, Slovensko! (Let's go, Slovakia).
Thinking of the game I realized I have no idea what could be considered Slovak "game food". You know, how here in the USA friends get together before football to grill burgers and hot-dogs and drink few cold ones. Well, beer (pivo) is definitely part of game watching in Slovakia. So are salty peanut flavored snacks called chrumky. But to find out more, I asked the site fans on Facebook. Here is what they had to say so far: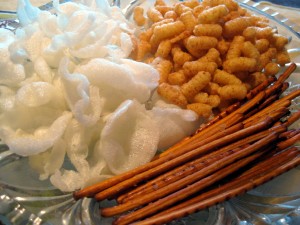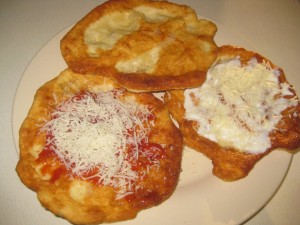 Few popular Slovak game snacks: lupienky, chrumky and fried dough called langoš.
Marcela: Just beer, nothing else is important
Andrea: yeah just beer or slovak chrumky..yummy yummy for my tummy..
Dagmar: beer, but we eat the same things as Americans, there is no difference
Silvia: Ciganska on the grill, it can be chicken or pork and pretty lean or fat (cigánska is meat cooked with paprika and onion and served with bacon)
Zuzana: I'm not Slovak, I'm Czech but I'm guessing same as in Bohemia…Pivo and pivo and pivo….
Silvia: My form of ciganska – put mustard, ketchup, garlic, Worsch. sauce, one egg, seasoning salt together in a bowl and marinate the meat in it for the night or just for an hour or two…
Maria: Pivo (beer), zemiakove lupienky (white potate chips), langose (pan fried dough, formed just by hand no fancy style with garlic and butter), but I think the beer is BIG ONE!
Alexis: PIVO a langose
Jana: plate full of cut klobasa, hard smoked cheese, mustard and rozky (rolls).
Janka: Plates with cut sausage, cheese and peppers, and also open-faced sandwiches. And a lot of beer, perhaps even some slivovitz.
Susan: I'll be drinking Zlaty Bazant (available in Canada) and Spis Hruska (brought back from a recent visit to Slovakia), maybe with a plate of halusky and some maso na paticky.
Hela: Slovakia Chips + Chrumky but food is not as important its the beer Topvar all day long! Come on Slovensko!
Rebekah: Pivo and chlebicky (open faced sandwiches), klobasa, rozky….
Now it's your turn. What do you consider Slovak game food? With what snacks will you be watching the games? Please leave a comment and let us know.
Subscribe to the newsletter.